*This Post Contains Affiliate Links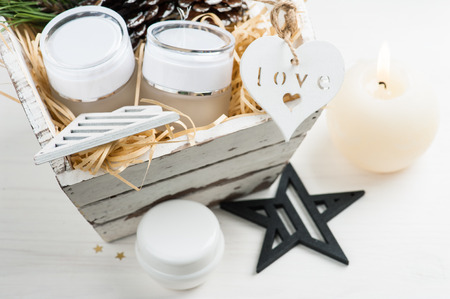 The Holidays are quickly approaching, and I am proud to say that I've already made a dent on my Gift Shopping List. I've also reached that inevitable place, the place where my Gift Shopping list is long but my budget is short.
When this happens, the solution is not as simple as just crossing people off the list, that would be rude! So what does one do? One gets CREATIVE with their Gift Giving and makes Customized Gift Baskets.
I went to Pinterest for inspiration, and now I am over-flowing with ideas!
Benefits of Creating Customized Gift Baskets?
Rather than giving one very expensive thing, a bunch of small priced items are packaged up in a fun & eye-catching presentation
Add to the fun and go with a THEME to make the gift more special
Plan ahead and make the same basket for friends/family with similar interests, allowing you to buy multiple quantities of items in bulk and save
As I glance down my holiday list, I see that I have 3 friends with younger children. A Sundae Gift Basket (that I saw on posted from Must Have Mom) for each family is a perfect family bonding activity. I can hit up Superstore for flavored syrups and ice cream cones (and maybe use my PC Points to pay). I can purchase colorful sprinkles, candies and chocolates at the bulk barn, and package the candies in small glass jars sold at the Dollar Store .  While I'm at the dollar store, I can grab cute ice cream scoops, twine and tissue paper as the final touch.
I find that Indigo has the most creative selection of small gifts, which traditionally are used as stocking stuffers, but for this year, they will act as the perfect items for themed Baskets. Stack the savings by buying online through Great Canadian Rebates. Plum Rewards + Cash Back Rebates help stretch the budget a bit further for your unique and thoughtful Gift Baskets.
My holiday list has 3 men on it. Create a Man Cave Basket. A few items that caught my eye include a 15 piece tool-kit in a Book, Sportsman Recovery Kit, a Cork Flashlight and of course the Wood Fire Scented Pen to bring the smell of outdoors in to his office.
How is this idea to get your teen to stop texting! An Exci-TEEN Basket filled with items such as a Selfie Light, Mini Karaoke Microphone, and ClothesPin Photo Clips. Add a Smart-Phone Projector and give all of those Selfie Pics a fun way to be shared.
What can go in to a Basket for the Boy who loves Sports, Video Games and can't sit still. Fidget Putty, Rubber-Band Shooter, Fidget Cube, and Pocket Arcade Hangman to entertain and teach at the same time.
The holiday season does not have to break the bank. Stay on budget, have some fun shopping, and put together Customized Gift Baskets that will delight all who receive them!
Product availability and information is provided by the merchants. We take no responsibility for the accuracy of content. Promotional discounts and cash back rebates may be available when purchased through Great Canadian Rebates. This is not a review of products. Products were not tested. Our selection process gathers customer feedback and ratings from many retailer websites and tabulates their responses into one list. They do not reflect our opinions
[ Permalink | Comments off ]