*This Post Contains Affiliate Links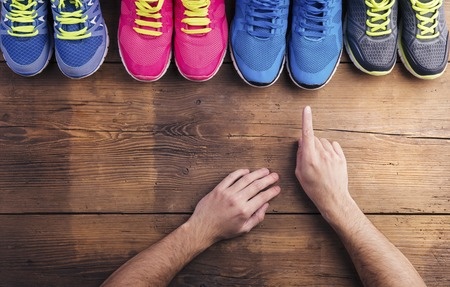 Choosing the best Running Shoe is more than selecting a style and color that you think looks good. Feet come in a variety of shapes, and Running Shoes are designed differently to accommodate these differences, to give you the most comfortable run possible.
Here are 4 questions that you should answer before Buying Running Shoes
Where are you running? Running on the road/pavement requires a different shoe than running on trails. Traction and Stability are designed differently.
How do your Ankles roll? If they roll in you will require a shoe with extra stability and motion control. If they roll out you will want a shoe with cushion and flexibility. Not sure which way they roll? Generally people with higher arches roll out and people with flat feet roll in
How do you tie your Laces? If your shoes are uncomfortable it might just be the way you tie your laces. There are a variety of lacing techniques that can alleviate issues such as toes curling, Blisters caused by excess heel movement or sensitive areas on the top of your feet caused by high arches .
Are you wearing the correct size? It is best to have about a thumbnails length of space between your toe and the front of your shoe to allow for running downhill and normal swelling caused by running.
You should now have a good foothold for shopping online for Running Shoes. Right now until Tuesday April 4, 2017 Nike Canada is having an End of season. Save Up to 30% off new markdowns.
PRO TIP! Once you have purchased your shoes, open your calendar and create a new event titled BUY NEW SHOES. On average, a Running Shoe lasts 500 – 800 kms. The average runner will do that in 3-4 months. Thank goodness for Cash Back Rebates!!!
Product availability and information is provided by the merchants. We take no responsibility for the accuracy of content. Promotional discounts and cash back rebates may be available when purchased through Great Canadian Rebates. This is not a review of products. Products were not tested. Our selection process gathers customer feedback and ratings from many retailer websites and tabulates their responses into one list. They do not reflect our opinions.