*This Post Contains Affiliate Links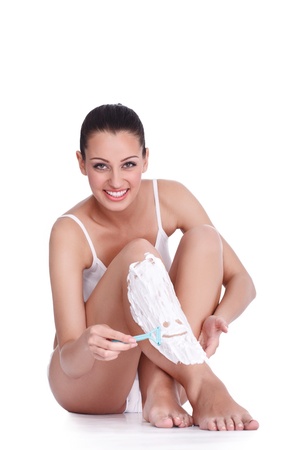 It might just be a false alarm, but we certainly have seen some "Spring-Like" temperatures here in Ontario over the last week. Yesterday I even saw a woman wearing a skirt with bare legs. BARE LEGS…..that means it's time to blow the dust off of the razors ladies.
Great Canadian Rebates went to Dorco (technologically advanced and superior quality disposable shavers, shaving systems and shaving accessories for men and women) and gathered some shaving tips that ensure the cleanest and closest shave – who knows, if you follow these tips you may even be able to put off reaching for that razor for an extra few days…
    Wait 5 to 10 minutes after jumping in the shower to shave. The warm water will relax the hair follicle, lifting the hair for a closer, smoother shave.
     Many websites suggest exfoliating before shaving, but it is actually not necessary. Shaving, in itself, exfoliates the skin by removing dead skin cells
    If you are out of shaving cream you can get the job done with hair conditioner, it helps the razor glide smoothly over the skin. Remember to rinse the blade really well, as it can clog and dull.
    The best way to avoid nicks and cuts is to always use light to medium pressure when shaving. If you find yourself having to apply more pressure to get the job done, it's time to switch blades.
  Did you know that Underarm, leg and bikini area hair all grow differently. Get a more comfortable shave by using the correct razor for each area; ie: your bikini area will benefit from a different razor than your legs. The Dorco common docking technology allows for you to mix and match your Dorco blades. Try different cartridges to find the right one.
    Stop sharing the razor with your man!! This practice is unsanitary and can lead to infection. It's ok to use a man's razor, but not the razor being used by your man.
    Change your razor cartridge every 7-10 shaves. A dull and uncomfortable shave is a sure sign it's time to replace. A dull blade can also lead to nicks and cuts. OUCH!
Let's talk Facial hair and unsightly upper lip hair.  You can have pain-free and precise brow shaping with the Dorco Shai eyebrow razor, which can also remove lip hair in one to two strokes.
Until March 31, 2017 get $10 off #30+ Order at Dorco. Use Coupon Code MARDUSA17. Dorco's goal is to deliver an exceptional shaving experience. Great Canadian Rebate's goal is to help you save money with a 7.0% Cash Back Rebate on your Dorco purchases.
Product availability and information is provided by the merchants. We take no responsibility for the accuracy of content. Promotional discounts and cash back rebates may be available when purchased through Great Canadian Rebates. This is not a review of products. Products were not tested. Our selection process gathers customer feedback and ratings from many retailer websites and tabulates their responses into one list. They do not reflect our opinions.