*This Post Contains Affiliate Links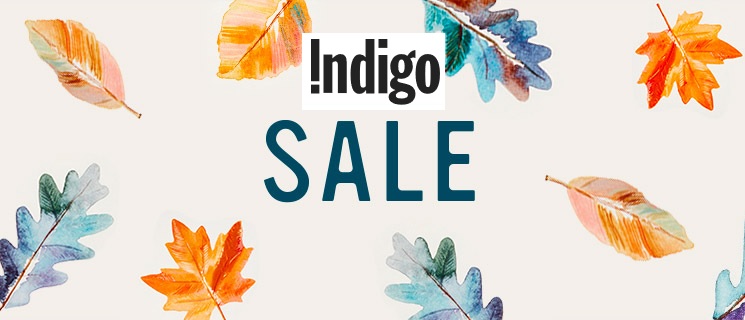 Oh Autumn, how do I love thee, let me count the ways! Let's start with the weather that is totally amazing! Warm afternoons to enjoy a patio and walk through a corn maze, and cool evenings to snuggle up close to each other on the is Ferris Wheel at the Fall Fair. Then there is the return of my favorite TV Shows. How about Pumpkin Spice everything…..or if you are more like me, Pumpkin Pie! And my favorite thing of all, Fall Decorating, inside and out!
Indigo has an impressive selection of items that can bring the warm colors of Autumn in to your home, and it's ON SALE right now when you want it most! Here are some of my favorite picks….
Nothing can match the gorgeous colors of Autumn, and this pillow designed with lavish gold embroidery is all about Canadian Outdoors. The pillow reverses to a solid woven back and features a concealed zipper for easy care. Space is limited in my home, so I love that this cover can slip right over the decorative pillows already on my couch.

Now $24.50
Was $39.50

Nature is all about textures, and this pillow cover adds texture to the sight as well as the touch. I love having a few different styles of decorative pillow on the couch and beds. Flip it over to reveal a smooth cotton back.

Now $24.50
Was $39.50

---

Be inspired by Mother Nature and bring all of the colors of autumn in to your home this season. This beautiful Red Clay throw is knit from refined yarns. It feels whisper-soft to your hand and has a beautiful drape.

Now $24.50
Was $49.50

You say Autumn, I say TREE! Show your decorative flair with this sophisticated and subtly shaded tree that is set atop a gold leafed stem and base. Place one as a stand-along feature, or pick up a few and create your very own indoor forest.

Now $13.50
Was $27.50

---

Great interior designers know that the key to beauty is combining elements. This sleek and modern stacking chair features molded wood elements.

Now $94.50
Was 135.00

A cozy home is one that stimulates and relaxes all 5 senses. Add fragrance and beauty to any space with these long-burning paraffin-soy wax blend and mixed with essential oils. There are a variety of fragrances available, but this one is my favorite composed of White lavender flowers with sun–warmed bergamot, soft greens and a mossy herbal cannabis accord are wrapped in white woods with the perfect musk.

Now $10.00
Was $20.00

---

Just as I change out my cushions for the season, I will also change up some of the art on the walls. This ready to hang on a wooden framed canvas print is adorable with the inspirational words "From little acorns mighty oaks grow".

Now $17.50
Was $29.50

Have fun while bringing nature's elements in to your living space with this popular game. Leave it set up as a decor item, and then you and your friends can take turns removing a block from the bottom and placing it on the top to build a tower that can double its original height! The last player to stack a block without the tower falling is the winner!

Now $41.00
Was $69.50

---

This piece makes me think of Apple Picking and Fall Harvest. Fill it up high with pumpkins, gourds, fresh picked apples or freshly baked muffins.

Now $17.00
Was $34.50

You've done a great job decorating your home for Fall, now you can kick your feet up and enjoy it all with a cup of tea. This glass tumbler is detailed with bright autumn leaves that fall across the inner glass wall, and is double-walled to keep hands cool while letting you monitor the brewing process. Topped by a bamboo-topped lid and a generously sized stainless steel infuser that removes for easy cleaning.

Now $19.50
Was $28.00

---

Product availability and information is provided by the merchants. We take no responsibility for the accuracy of content. Promotional discounts and cash back rebates may be available when purchased through Great Canadian Rebates. This is not a review of products. Products were not tested. Our selection process gathers customer feedback and ratings from many retailer websites and tabulates their responses into one list. They do not reflect our opinions.