Recently I downsized in house size and am very happy with the decision, but there was one area that I really felt the squeeze, and that was kitchen cupboard space. My counter-top sat lined up with small appliances and there was just no place to hide them all. Since I couldn't GROW the kitchen, I had to make the selection of kitchen gadgets SMALLER.
The idea of tossing so many handy tools was not easy, especially since I would be needing them again. I went to Pinterest in search of storage ideas for all of these machines, and then I found it! IT! The one appliance that replaces over twenty kitchen items.
Introducing the KitchenAid Stand Mixer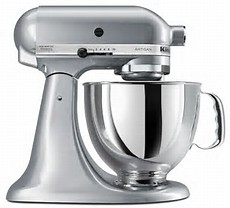 This beautiful invention is not just for baking. There are many accessories that can be attached that let it transform into something much more useful than simply a "mixing bowl".
Slice and Shred

Meal prep for the week is a snap with the slicer attachment. Veggies for lunch boxes, stews and casseroles can be quickly sliced and diced.

KITCHENAID SLICER/SHREDDER replaces: Bulky Cutting Boards and Finger Shredding Graters

---

Beat It

Your personal trainer might approve of the arm power required to mix by hand, but your arms will remind you the next day about what a bad idea it was. Mixing big batches of cookies and cakes is no sweat now.

KITCHENAID BEATER replaces: Hand Mixers, Whisk, Wooden Spoons

---

Whip Up a Frenzy

Every kid knows that the yummiest recipes always end up with being allowed to lick the whip after. Whip up cake icing, whipped cream, ice cream, and other delicious treats.

KITCHENAID WIRE WHIP replaces: Wire whisks that get tangled in the cutlery drawer

---

Straining and Grinding

A cupboard filled with homemade jams, jellies and apple sauces and a fridge storing a jug of fresh squeezed juice is so comforting, but the process of preparation can be a strain. Not anymore with the Straining & Grinding attachment.

KITCHENAID FRUIT/VEGETABLE STRAINER/GRINDER replaces: Juicer, Masher, Strainer, Blender, Food Processor

---

You are off the Hook now

The Kitchenaid Dough Hook attachment will take your culinary skills to the next level. Fresh breads, pizza, and pasta are on the menu regularly now!

KITCHENAID DOUGH HOOK replaces: Rolling Pin

---

Here is a Juicy Idea

Say goodbye to juices filled with added sugars and fill the kitchen with the scent of fresh squeezed oranges by making your own.

KITCHENAID CITRUS JUICER replaces: Juice Maker

---

I scream, You scream….

…now we can all scream for ICE CREAM! With as few as 5 ingredients, fresh churned ice cream can cool down those hot summer days.

KITCHENAID ICE CREAM MAKER replaces: Ice Cream Maker

---

This is just the beginning of all of the amazing things that the KitchenAid Stand Mixer can do. It really is the one small kitchen appliance to replace all others.

Right now until April 5 2017, HomeDepot.ca will save you $100 on a KitchenAid Stand Mixer – Now $299 – While Quantities Last. Earn 2.5% Cash Back Rebate from Great Canadian Rebates and maybe put those earnings towards some fancy new attachments.

My new Kitchenaid Stand Mixer has left me with lots of cupboard space now, and to be honest, it is far too beautiful to hide away. It seems that my new house-warming gift to myself was both functional and decorative!


Product availability and information is provided by the merchants. We take no responsibility for the accuracy of content. Promotional discounts and cash back rebates may be available when purchased through Great Canadian Rebates. This is not a review of products. Products were not tested. Our selection process gathers customer feedback and ratings from many retailer websites and tabulates their responses into one list. They do not reflect our opinions.