*This Post Contains Affiliate Links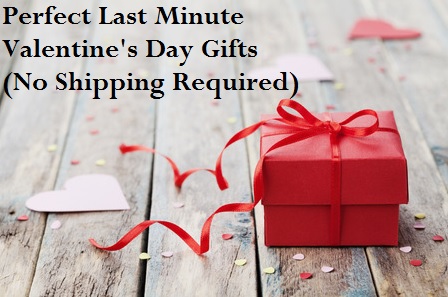 Valentine's Day is tomorrow and you haven't picked up a gift. Maybe the day snuck up on you, maybe you have been otherwise occupied digging out from under drifts of snow. Whatever the reason you now find yourself with only hours left until the big day and you are scrambling. Great Canadian Rebates has put together a list of Perfect Last Minute Valentine's Day Gifts – no shipping required.
Are you dating a Gamer? Gift them a year of fun with an Xbox Live 12 month Gold Membership Card. An easy last minute gift because the product is digital code, combined with letters and numbers, delivered by e-mail. Be sure to enter your email address correctly when you are ordering. Buy through GCR and NoKeys and receive a 2.0% Cash Back Rebate

---

A National Geographic Magazine subscription will delight so many types of personality. The budding photographer, the nature lover, the world traveller, and more. Your one-year subscription includes 12 monthly issues of our award-winning digital edition for iPad, iPhone, Google Play, and Kindle Fire (Device not Included). Earn a 5.5% Cash Back Rebate

---

Namaste. For your lover who practices yoga, meditation, and mindful living, give them the gift of Yoga anytime, anywhere. They can find daily inspiration or dive into workshops, stream a live event, benefit from a soothing sequence, or participate in a fun challenge! 30-Day Free Trial Then $14.99 per month. A Cash Back Rebate will be given after the first billing to your credit card.

---

You've heard the saying, the way to their heart is through their stomach, so give the gift of Fresh Food. HelloFresh Canada subscription service will drop a box of fresh ingredients and recipe on their doorstep each week. No more fighting traffic to find the ingredients or trudging home with heavy bags, No more greasy take-out, No more processed food. Set up their subscription and then weekly they will be emailed a reminder to make their recipe choices for the next week. Earn a $13 Cash Back Rebate

---

Give that FAN tickets to the show they really want to see. Concert tickets and live sporting tickets can be found at TicketMaster (up to 4.0% Cash Back Rebate), TicketLiquidator (4.5% Cash Back Rebate) and TicketNetwork.com (8.0% Cash Back Rebate). Surprise your love with those hard-to-find tickets from trusted ticket sellers.

---

Looking for something different? Browse through Groupon for a million ideas, many of which will give you an online code to redeem. Then print the gift details and slip inside a card. Massages, Fitness Classes, Paint Night Experiences, Helicopter Rides, Ski Lift Tickets….the options are endless! Earn up to 6.0% Cash Back Rebate.

---

Share Love with your Single Self! Sign up for a 6 month Subscription to eharmony.ca! Save 30% Off a 6-Month Membership when you use the code EHCODECA. Better yet, navigate the world of online dating with a single friend by gifting them with a 6 months membership too! With the 40% Cash Back Rebate this is a very affordable and loving gift

---
Another great tip is that a lot of stores found on Great Canadian Rebates will let you order online and then pick up In Store later today. This will save you some time AND still let you earn your Cash Back Rebate.
Valentine's Day is about LOVE…..love for your spouse, your partner, your family, your friends. When you make the choice to SHARE the Love tomorrow, you will FEEL the love. Happy Valentine's Day!

Product availability and information is provided by the merchants. We take no responsibility for the accuracy of content. Promotional discounts and cash back rebates may be available when purchased through Great Canadian Rebates. This is not a review of products. Products were not tested. Our selection process gathers customer feedback and ratings from many retailer websites and tabulates their responses into one list. They do not reflect our opinions.