This post contains affiliate links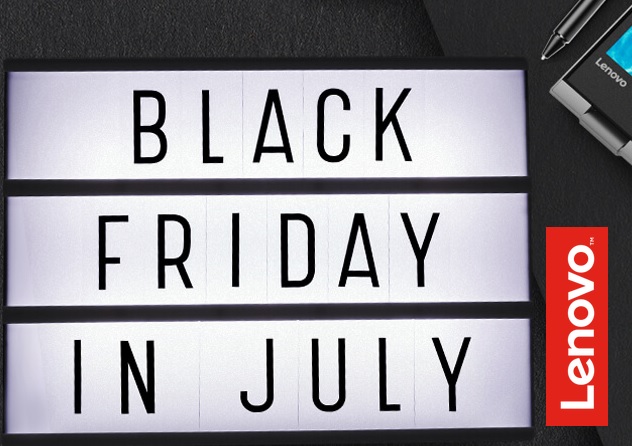 Everybody knows that BLACK FRIDAY is the biggest shopping day in November, so how did Black Friday in July become a thing? Well, when Amazon started their Prime Day blowout in 2015 they promised better deals than on Black Friday, other merchants followed with their own "Black Friday in July" deals, which are rumored to be as good as, or better than, those in November.
Lenovo Canada has been running their Black Friday in July sale for a few days, and it will continue to feature slashed prices until Sunday July 22nd. Shop Great Deals in the following categories:


Take a few minutes to really poke around and explore the deals, we saw items as high as 60% off!!
Great Canadian Rebates is making your savings even HIGHER with the BOOSTED Cash Back Rebate of 7.0% until July 22 2018. Please read Conditions to avoid disappointment:
Conditions :
No Cash Back Rebates are given by Lenovo for transactions that have more than 5 items per order.
No Cash Back Rebates for purchase through Lenovo Affinity Stores: Gift Cards, Small Business Store, Large Enterprise, State & Local Government, Federal Government, Healthcare, K-12 Education, Higher Education, Students, Partner Portal, Military Portal, Affinity Discount Program, Lenovo/IBM/Motorola Employee Purchase Programs (EPP), Lenovo Corporate Employee Purchase Programs (CEPP), Lenovo Member Purchase Program (MPP).
You have 45 days to submit a missing rebate inquiry for all Lenovo transactions. Lenovo will not accept inquiries older than 45 days.
Shipping :   Free shipping available on all orders. Exceptions apply.
*Product availability and information is provided by the merchants. We take no responsibility for the accuracy of content. Great Canadian Rebates uses Affiliate Links in blog entries, which means when you click and purchase the item, we will be earning a commission on the sale. Promotional discounts and Cash Back Rebates may be available when purchased through Great Canadian Rebates. This is not a review of products. Products were not tested. Our selection process gathers customer feedback and ratings from many retailer websites and tabulates their responses into one list. They do not reflect our opinions.