*This Post Contains Affiliate Links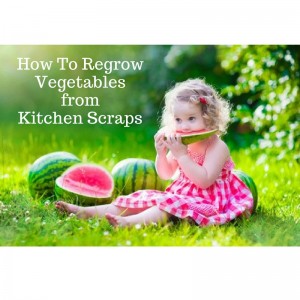 After the recent romaine lettuce e coli outbreak in Canada, I've really started reconsidering the benefits of growing my own vegetables. Knowing where my food comes from offers great peace of mind. It also saves money at the grocery store, and I've learned that it is easy. I've decided that the kids and I are going to start our own kitchen science-experiment and learn how to regrow vegetables from kitchen scraps.

Yes I said Kitchen Scraps! In the past I have tried growing from seed, and each time I get very excited at all of the little sprouts lining my window sill, but sadly once they are transplanted I have had little success. I feel that the money spent on seeds and soil was wasted. Regrowing vegetables from kitchen scraps requires little or no additional investment, and in most cases they can be regrown in only water.

There are actually many different types of vegetables that can be regrown from scarps, so I have set some requirements as to what types of vegetables I want to regrow.
It must be fairly quick growing. We've all seen the avocado pit stabbed with toothpicks with it's butt hanging in the water. I love avocados and they are often found in my kitchen, but it can take nearly a decade for an avocado tree to fruit.
It must be something my family eats on a regular basis. Fennel might regrow easily, but to put the time and effort in to growing it would be wasteful in my home as it's just not an ingredient used often enough.
The original vegetable must be certified organic. Certified organic vegetables are always more expensive at your local grocery store, but if you are planning on regrowing the scraps then the extra investment is worth it. Knowing that your efforts are producing healthier food for your kitchen table, and also being sure that the original vegetable hasn't been sprayed with a chemical to inhibit regrowth.
Taking those requirements in to consideration, and researching all of the options, these are the 5 that we are going to start with:
Romaine Lettuce Well yeah, this is where the whole idea came from. We go through a lot of romaine lettuce. Not only is it said to be healthier than iceberg lettuce, but are family guinea pig enjoys it very much as well. Cut off the bottom of the head of lettuce and place it in a small bowl of water, and in as little as 2 weeks you can be nibbling on fresh leaves
Celery This crunchy snack finds it's way into lunch boxes each week as well as soups & stews. Cut off the bottom 2″ of the stalk and place in a small bowl of water, and watch new growth begin in as little as 3 or 4 days.
Potatoes Do you remember the character in Forest Gump who could list off all of the ways to enjoy shrimp? That's me when it comes to potatoes. I love them! My research shows that starting the regrowth in water will only result in a moldy potato. Cut a cube with the eye off the potato, let it dry out, and then plant it in soil.
Green Onion I've read that these are one of the easiest vegetables to regrow, and the white or green parts can be used in so many recipes. Place the white root end in to a glass of water, put glass in a sunny spot and watch it grow! Remember to change the water every few days.
Mint You know what they say, rules are meant to be broken. Although mint is not something that we use in our cooking regularly, we needed a FOR FUN project. I love the aroma of mint, particularly Chocolate Mint. Super easy to grow in your garden, or in pots, grab a couple of sprigs, place your mint cuttings in water, change the water every couple of days, and once you see roots you can plant it in soil. When you start to have too much mint growth, it's time to serve Mojitos!!
I am really looking forward to our family science project. Seeing as this is our first time trying to Regrow Vegetables from Kitchen Scraps, I welcome tips and recommendations. Have you had any luck regrowing food?

*Product availability and information is provided by the merchants. We take no responsibility for the accuracy of content. Great Canadian Rebates uses Affiliate Links in blog entries, which means when you click and purchase the item, we will be earning a commission on the sale. Promotional discounts and Cash Back Rebates may be available when purchased through Great Canadian Rebates. This is not a review of products. Products were not tested. Our selection process gathers customer feedback and ratings from many retailer websites and tabulates their responses into one list. They do not reflect our opinions.