*This Post Contains Affiliate Links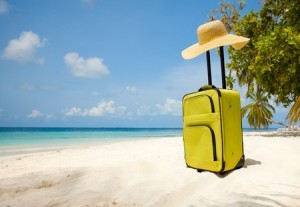 As much as I love autumn in Canada, I do have to admit that I am just not quite ready to give up the Summer heat. Seeing as I can't keep the hot temperatures here in Canada I will just have to hop on a plane and soak them up in the Bahamas!

I have an infatuation for traveling. I have a strong dislike for packing.

As a mom of 2, planning and packing for a vacation is normally a huge headache. Every trip begins with me deciding ahead of time what every family member is going to wear, counting out enough pairs of socks for each person, and laying my body across the suitcase as I try to zip it closed while fooling myself in to believing that it will meet the airline weight restrictions.

Confession time: Even when it is just myself traveling, I have a terrible habit of over packing. I am determined NOT to get dinged for extra charges from the airline this time by packing smart, and I recently learned that Foolproof Packing for Beach Destinations is as easy as counting to 5.

5 Tops: Every family member will find that tank tops and t shirts are light and comfortable for day excursions. Include a short sleeved Button up shirt with collar for the gentlemen for dinner. Evenings by the ocean can be breezy so pack a Pashmina Scarf or denim jacket.

4 Bottoms: Choose shorts and skirts in fabrics and colors that compliment the tops you have packed. This will give you more outfit combinations. Ladies might want to consider a pair of tight jeans that will pair nicely with heels for the club or restaurant. Gentlemen will appreciate long pants in a lighter cotton.

3 Dresses: Sundresses in bright tropical patterns are feminine and comfortable. They take you from day to evening quite easily, and work very well as a quick cover-up over your swimsuit.

3 Shoes: I admit it, this is where I always stray. Ideally you really only need a pair of walking shoes for day excursions, Flip flops for the pool/beach and something a little more dressy. Sandals, wedge or a heel are great options. Men will want to go with a walking shoe, flip flop and something with closed toe for evening.

2 Swim Suits: When a few thousand miles from home, embrace your body & curves and go for the 2 piece swim suit! By choosing 2 piece separates you can mix & match for a new look every day. Bikini and Tankini tops also work really well with a pair of shorts or a cotton skirt.

2 Bags: A big bag with lots of pockets will take you from Plane to Beach quite easily. Stash snacks, sunscreen, iPad for a quick grab n go. A simple clutch purse will hold your ID and money for evening outings. Choose a clutch that will match with your dressy pair of shoes.

Top from French Connection / Jeans from Jag Jeans / Dress from Suzy Shier / Flip Flops from Reebok Canada / Swimsuit from Hudson's Bay / Tote with removable Pouch from Reitmans



Of course for every rule there is an exception; here are some other items you will likely want to tuck in to your suitcase and carry-on.

1 hat, 1 pair of sunglasses, underwear and PJs, socks and jewellery. When on vacation I leave the valuable stuff at home and bring accessories that work with beach wear and evening attire. That way if something gets misplaced or lost in the sand I am not heartbroken. Keep your options simple, a cuff bracelet, hoop earrings, and chunky necklace should go with all of your outfits, and these small items can be squeezed into your shoes and other small spaces in your luggage.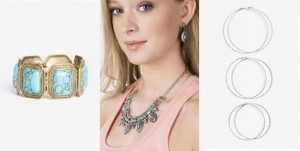 Accessories from Ardene



My final Foolproof Packing Tip for Beach Destinations: ROLL your clothes, not fold. You will be shocked at how much more you can fit in to a small bag. My goal is to get to Bahamas with only a Carry-On suitcase and my tote. Wish me luck!

Product availability and information is provided by the merchants. We take no responsibility for the accuracy of content. Promotional discounts and cash back rebates may be available when purchased through Great Canadian Rebates. This is not a review of products. Products were not tested. Our selection process gathers customer feedback and ratings from many retailer websites and tabulates their responses into one list. They do not reflect our opinions.