GREAT REBATES AND LOW INTERESTS RATES FOR ONLY $25 PER YEAR!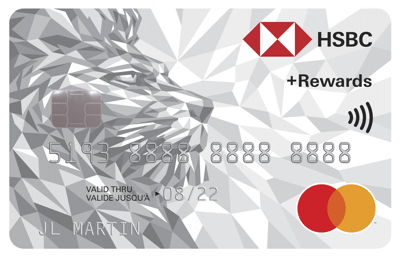 One of the most attractive features of the HSBC + Rewards™ Mastercard® is definitely that it has the lowest interest rates, only 11.9% interest on purchases, cash advances and balance transfers. Most amazing of all, is that you can access to all theese benefits for an annual fee of $25 for the primary cardholder and only $10 for authorized users.

Also, if you apply before January 31, 2022, the first annual fee of $25 will be waived and you can earn a welcome bonus of 30,000 points (approximately $150 in travel value) by spending at least $2000 the first 180 days with your card. Sign up and get $35 Cash Back Rebate!

Earning points with the HSBC + Rewards™ Mastercard® card is very simple, as it will depend on what you buy, for example, if you spend on dining or entertainment you will earn 2 points for every dollar and 1 point for every dollar for all other purchases. The points redeemption system is quite flexible, although where you get a greater benefit is by exchanging them for trips or experiences, you also have the option of exchanging them for gift cards, donations, merchandise and others.

Feel calm and protected with the 3 types of insurance that are included with this card. First, Price Protection, which basically consists in that if you buy a product and in 60 days you see it with a lower price, they will refund you the difference (up to $500). Second, Purchase Assurance, which offers 90-day coverage in the event of damage, theft or loss. And third, but not least, the Extended Warranty, with which you can double the manufacturer's warranty time. Additionally, as an optional decision, for $69 per year you can obtain a travel medical insurance, coverage in case of flight cancellation and loss or delay of luggage.

This card also offers extra features such as Tap & Go compatibility, Apple Pay and Zero Liability Protection in case of unauthorized transactions, although the probability of this happening is reduced to a minimum, thanks to the advanced Chip & PIN technology.
In conclusion, the HSBC + Rewards™ Mastercard® is a combination card that offers rewards and very low interest rates, which means you get a complete package for a modest annual fee.
Join now and enjoy all the perks HSBC + Rewards ™ Mastercard® has to offer!
One of the most attractive features of the HSBC + Rewards™ Mastercard® is definitely that it has the lowest interest rates, only 11.9% interest on purchases, cash advances and balance transfers. Most amazing of all, is that you can access to all theese benefits for an annual fee of $25 for the primary cardholder and…