HSBC +REWARDS™ MASTERCARD® ONE OF THE BEST CREDIT CARDS OF 2022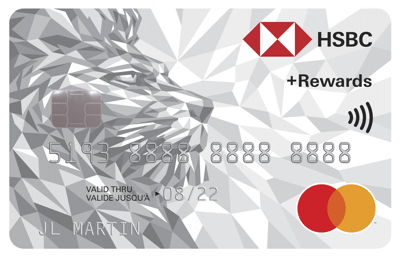 The year 2022 began and with it new adventures, trips, purchases and activities will be available for you to enjoy with the help of a good credit card. The HSBC + Rewards ™ Mastercard® offers you great benefits, for a minimum investment of $ 25 per year, which also, if you apply before January 31, 2022, they will be refunded to you as soon as you complete your first year with the card! Sign up and get $35 Cash Back Rebate!
On the other hand, thanks to the alliance of HSBC and Mastercard, if you join before the date mentioned above, you will also receive a Welcome bonus of 30,000 points equivalent to approximately $ 150 in travel value, just have to spend $2000 the first few 6 months with your card to obtain it.
One of the most outstanding features of this card, is its extremely low interest rates of only 11.9% on purchases, cash advances and balance transfers, which means a great advantage over other offers available in the financial market.

Earn points with your HSBC + Rewards ™ Mastercard®, it is very simple! Depending on what you buy, you will get different amounts of points. In the case of dining or entertainment purchases, you will earn 2 points and for all other purchases 1 point for every dollar. The best way to exchange your points is for trips or experiences, but you can also exchange them for gift cards, merchandise and others.

And if you love technology, the HSBC + Rewards ™ Mastercard® is at the forefront, thanks to its compatibility with the Tap & Go function and the Apple Pay application. In addition, you will be able to enjoy secure transactions and prevent your card from being used by unauthorized persons, with the Chip & PIN option and the Zero Liability program.

With this card you will be protected in 3 different ways, the first, when buying a product you will have at your disposal, a 60 days insurance that will protect you from any drastic variation in the price of the item you bought, if that happens, you will get a refund for the difference. Plus, you'll have an extended warranty that can double the original manufacturer's warranty and 90 days of coverage in the event of damage, theft, or loss. Additionally, if you are a frequent traveler and want to feel protected on your trips, for only $69 a year, you will have access to medical insurance, coverage in case of flight cancellation and loss of luggage.
Enjoy all the benefits HSBC + Rewards ™ Mastercard® has to offer!
The year 2022 began and with it new adventures, trips, purchases and activities will be available for you to enjoy with the help of a good credit card. The HSBC + Rewards ™ Mastercard® offers you great benefits, for a minimum investment of $ 25 per year, which also, if you apply before January 31,…