Cash Back Rebate: 13.0%*
(Cash Back Boost until Oct 30)
Note : You must click to merchant before adding to cart or wishlist
Note : Cash back on gift cards only available here.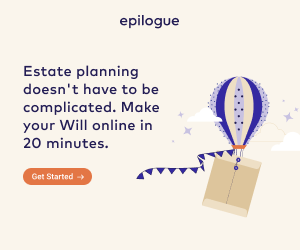 Make a Will online easily
Epilogue is a simple, fast, and affordable way for Canadians to create their Will and Powers of Attorney online. By answering a series of straightforward questions, anyone can make a legally-binding Will in 20 minutes—without leaving the comfort of their own home or ever having to step foot in a lawyer's office. Founded by two estate planning lawyers, Epilogue's best-in-class platform supports customers not only throughout the Will-making process, but long after as well.
Description