---

Finance
Thinking of ways to add a little cash to your end-of-year savings or earn some extra money for your holiday expenses? Our online purchase rebates from different credit cards can help you earn rewards on spending, simplify your finances, and get various perks that you can not get with a simple debit card.

Few Canadians know they can get a cashback bonus for signing up with many popular credit cards from American Express, MBNA, Scotiabank, National Bank, HSBC, Tangerine and more.

The cashback amount is as much as 0 and sometimes more. Refer your friends to apply for a credit card and you can receive 25% of their cashback. Your GCR account can quickly add up to incredible amounts!

Great Canadian Rebates is quickly becoming the source for all credit card research and applications. It is the smart thing to do if you want an extra bonus for signing up with a new credit card.
SHOP ONLINE..... GET CASH BACK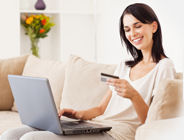 Shop online ...
Get Cash Back!
Get 25% Referral Bonus
Get paid in cash 25% of all cash back rebates all your referrals collect


Great Canadian Rebates works in partnership with over 900 well known merchants. These outlets already offer great deals and savings, you save even more when you shop online as a member here. Once you register, you can save through Cash Back Rebates and even more using our coupons, deals, discounts and sales links.