TREND TALK
What are the top trends?



Find out the top trends and get Cash Back! See all the latest trends in fashion, tech, home, travel, entertainment and family right here at Great Canadian Rebates.
American Express Business Edge™ Card




• Earn up to 42,000 Membership Rewards® bonus points in your first year of Cardmembership



Get $100 Cash Back Rebate from GCR.

MBNA Alaska Airlines World Elite® Mastercard® credit card




• 30,000 bonus miles†† and Alaska's Famous Companion Fare™ from 1 (USD) ( plus taxes and fees from )◊◊ after you make ,000 or more in eligible purchases within the first 90 days of your account opening.



Get $50 Cash Back Rebate from GCR.

Scotia Momentum® VISA* Infinite card




• Earn 10% cash back on all purchases for the first 3 months (up to ,000 in total purchases). Plus, no annual fee in the first year, including on supplementary cards.1 A welcome offer value of 0.†



Get $60 Cash Back Rebate from GCR.

Tangerine Money-Back Credit Card




• Earn 2% Money-Back Rewards on purchases in two 2% Money-Back Categories of your choice, and 0.5% Money-Back Rewards on all other purchases.



Get $50 Cash Back Rebate from GCR.
Get Up To $100 Cash Back Quick Click to see TOP CREDIT CARDS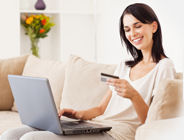 Shop online ...
Get Cash Back!





$65 Cash Back!


Ends Jan 30




4% Cash Back!


Ends Jan 23




6.5% Cash Back!


Ends Jan 25




8% Cash Back!


Ends Mar 31




$65 Cash Back!


Ends Feb 27






$100 Cash Back!


Ends Jun 30




6.5% Cash Back!


Ends Mar 31




Up to
7% Cash Back!


Ends Mar 31




$6.5 Cash Back!


Ends Mar 31




5% Cash Back!


Ends Jan 31



SALE OF THE WEEK
7 PLANT-BASED PROTEINS DISHES THAT YOU WILL LOVE!
---
Have you ever thought how good it would be to add more plant-based protein to your diet? We invite you to know the flexitarian diet, which consists of balancing the consumption of proteins of animal and vegetable origin, so you can continue to enjoy your favorite meats, but in moderation. To help you get started in this flexitarian world, we have made a compilation of 7 wonderful recipes where we use our favorite vegetable proteins. Check them out, we are sure you will love them! Click here to select your favorite meal.
Tempeh Teriyaki Bowl
A stir fry is the perfect option for a quick and nutritious dinner, ideal after a long day at work. This time around, the main protein will be tempeh, a traditional Indonesian food made with fermented soybeans. This protein contains natural probiotics that are ideal for the health of our digestive system.
Fattoush Salad with Roasted Chickpeas
Chickpeas are an excellent source of fiber, iron and zinc, so we decided to include them in this delicious salad. Let yourself be tempted by the incredible flavors of this dish and enjoy this wonderful mix of chickpeas with herbs, fresh vegetables, feta cheese and crispy pita bread.
One-Pot Mexican Quinoa and Black Bean
Quinoa is an excellent grain for people intolerant to gluten, it is high in protein and also contains all nine essential amino acids. We wanted to give it a Mexican touch, with lots of vegetables and a cilantro-lime cream.
Savoury Mixed Mushroom Bowl
For some it is not easy to include green foods in their diet, but if they only knew how good they are for our health! Spinach, for example, is an excellent source of protein, vitamins A, C, E and antioxidants (they help prevent premature aging). Try them alongside crispy mushrooms, avocado, and mustard dressing.
Harira-Style Lentil Veggie Stew
This recipe is inspired by a traditional Moroccan soup called Harira. To do this, we have combined the lentils with spices, zucchini and crushed tomatoes. Prepare to eat a food rich in protein and fiber, and be sure to clean the plate with the pieces of pita bread.
Veggie Chili
Beans are nutritional powerhouses' offerings tons of protein and fibre to your diet. One of the many reasons we love to add them to the HelloFresh menu. Beans make a great side dish, topping, or just a tasty bowl of hearty goodness. Black, pinto, and cannellini make frequent appearances on our menus. 
Bang Bang Tofu Bowl
Prepare your palate for an explosion of flavors! Tofu is an excellent meat alternative, which you can use in both savory and sweet dishes. For this savory recipe, we have included items such as cilantro, sweet and spicy sriracha mayonnaise, to elevate its flavor to the maximum!
See previous Sale of the Week offers