---

Why Is My Cash Back Rebate Missing?
Missing a cash back rebate is rare, however, it can happen for various reasons. If you are missing one click the Report Problems link and submit an inquiry. If you are missing too many then it is important for you to read this page.

Merchant Issues
If the link works and it takes you to the merchant website, then your transaction will get tracked. However, there have been instances the merchant made software changes that causes tracking to not work. Some credit card or travel merchants track an order properly but never reports the approval or travel completion, hence, your rebate will be missing. Simply click the Report Problems link to manually get your rebate.
Member Issues
A. Member Common Errors
Did not use GCR to add an item to cart or wish/save list
Used coupon code not found on GCR
Visited other websites in-between clicking from GCR and completing the transaction
B. Simple Errors
Browser cookies were turned off. Click here to learn how to turn them on
Ad blocker program was on
Did not use GCR to go to the merchant web site
Clicked from GCR after transaction was completed
Completed the transaction by phone
C. Habits


Emails : Getting emails from retailers you often visit can excite you to visit and use a coupon code found in the email. Normally the merchant will take credit for transactions if you use these links that take you to special landing pages or use the special promo codes.


Research : Researching a product you are thinking of buying is common. Unfortunately, some blogging sites have scripts that change cookies when you visit them. It is important to go back to GCR and click to the merchant page again after your research is complete. Better still, is to either clear cookies, use a different browser or use a different computer when your research is complete then go to GCR and click to the merchant and then add item to the cart.


Comparison Shopping : Comparison shopping is a good practise to find the best product at the best price. What ends up happening is you have multiple tabs or windows open of different merchant sites. Then in a new tab, you go to GCR and click to the merchant site. Under this situation there is no guarantee we will get credit for the transaction. It is best to be safe and close all tabs but one then click from GCR again. Or either clear cookies, use a different browser or use a different computer when your research is complete then go to GCR and click to the merchant and then add item to the cart.


Ads : Some members click on ads that takes them to a special landing page with a special offer. Then they go to GCR and click to the merchant. Then they go back to the original landing page from the ad to purchase the offer. Unfortunately, not all offers are available to us. Purchasing a special offer that you cannot access from GCR means we will not get credit for the transaction and you will not get the rebate.
D. Technology Preventing Tracking


Security Software : Ensure that the security software settings allow cookies to be set from Great Canadian Rebates and the merchants you are shopping at.


Firewalls : Firewalls can prevent ads. You will need to keep the Ad Blocking feature turned off.


Browser Extensions : Special toolbars or browser extensions used for shopping will change cookies or redirect the credits for the source click when clicking to a merchant from GCR. This causes GCR to not get credit and you lose out on the rebate. .


Browser : Make sure your browser is Internet Explorer, Edge, Mozilla Firefox, Google Chrome or Safari. We cannot guarantee that other web browsers will allow cookies and track your clicks from GCR.


Private Browsing : Do not use a browser's Private Browsing feature when using GCR because it can block tracking and you will lose out on a cash back rebate.


Spyware/Adware : Spyware or adware on your computer can change your cookies so credit is given to another web site. Use reputable spyware and adware removal software that gives you around the clock protection.


Adblocker : If you use an adblocker then make sure to add GreatCanadianRebates.ca to the allowable filter list.
SHOP ONLINE..... GET CASH BACK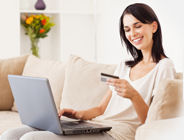 Shop online ...
Get Cash Back!
Get 25% Referral Bonus
Get paid in cash 25% of all cash back rebates all your referrals collect


Great Canadian Rebates works in partnership with over 900 well known merchants. These outlets already offer great deals and savings, you save even more when you shop online as a member here. Once you register, you can save through Cash Back Rebates and even more using our coupons, deals, discounts and sales links.