Cash Back Rebate: 6.5%★
Note : You must click to merchant before adding to cart or wishlist
Note : Cash back on gift cards only available here.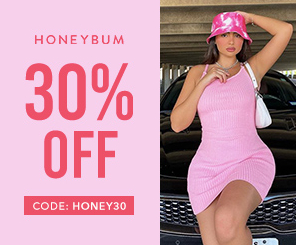 Trendy and affordable Women's fashion.
HoneyBum represents the rule-breakers, risk takers, heart breakers and the renegades. We inspire a new generation of hustlers, go getters and unstoppable women that are changing the dynamics of today's world. The bad-ass girls that are driving real impact around the world. We are real women of all shapes and sizes that are challenging traditional fashion by using social influence to create new styles and trends.
Description