---
Cash Back Rebate from GCR:
$20.00★





Shop Now: Go to Mydoh

Note : You must click to merchant before adding to cart or wishlist




Mydoh Money Management App for Parents & Kids
The Mydoh App and Smart Cash Card make it easy
for kids to gain real money skills.
This post contains affiliate links and we receive a commission when you sign up with Mydoh
• Subscription-Free for the first 30 days

• Get $15 on Mydoh - Use promo code SAVE15
• Download the Mydoh App
• Monthly subscription fee of $2.99 after your free trial offer ends
• Get Mydoh for up to 2 parents and 5 kids at no extra cost


Parent Account
From your parent account, you can view and manage all activity:
Set up tasks and allowance

Send your kids money instantly

Track earning and spending

React to transactions with emojis

Lock and unlock kids' cards


Kid's Account
This is where your kids will do all that learning, earning, and spending. They can:

Manage their tasks

Mark tasks as complete

Spend with their Smart Cash Card up to the allowable limit

Track earnings, spending and see balance

Learn money basics through Play

Mydoh Tasks
There's always so much to be done around the house. With Mydoh Tasks, you can easily set tasks and get your kids involved.

They learn the value of earning their own money.

It's easy to track whether tasks are complete or overdue, and once they're marked as complete, kids get paid on Pay Day – which happens every Saturday!

Earning their own money can change the way kids think about saving and spending.

Mydoh Smart Cash Card
The Mydoh Smart Cash Card comes with a money management app designed for kids and parents.

Kids can make purchases — online and in-store — up to allowable limits anywhere that Visa is accepted.

With the independence to make spending decisions, they can learn the real value of money.

Through hands-on, real-world experience, your kids can gain competence and confidence, and start building a healthy relationship with money.

You have a clear view of all activity and can give encouragement and guidance.

Kids can spend in-store and online† up to allowable limits with their Mydoh Smart Cash Card backed by Royal Bank of Canada and powered by Visa.


In addition to the physical Smart Cash Card, Canadian youth can now design and own a custom Smart Cash Card called "Mydoh by Me". This customizable prepaid VISA card allows your child to express their unique personality.

The card costs $6.99 and it can be designed by uploading your child's photo of choice or a photo from Mydoh's gallery (plus cool stickers!) and once the design is approved, it'll be shipped to you in 5 to 7 working days.



**The 30-day free trial offer is activated on the date of completion of the Mydoh mobile app account registration process. After your free trial offer ends, a monthly subscription fee of $2.99 will be taken out of your Mydoh Wallet. You can cancel any time by contacting Mydoh. Mydoh reserves the right to cancel, modify or withdraw this offer at any time.

† The RBC Visa Prepaid Mydoh Smart Cash Card ("Mydoh Smart Cash Card") is available as a physical and digital card that can be used to pay for purchases online or in-store anywhere Visa contactless (tap) is accepted.
★ Conditions :

• Do not browse or leave application page before it is completed.
• Please click from GCR again if session expires.
• Must apply online.
• Cash Back Rebate is from GCR and will be posted to your GCR account upon approval.

Rebate Currency Exchange : NONE

SHOP ONLINE..... GET CASH BACK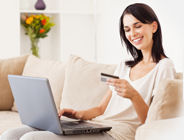 Shop online ...
Get Cash Back!
Get 25% Referral Bonus
Get paid in cash 25% of all cash back rebates all your referrals collect


Great Canadian Rebates works in partnership with over 900 well known merchants. These outlets already offer great deals and savings, you save even more when you shop online as a member here. Once you register, you can save through Cash Back Rebates and even more using our coupons, deals, discounts and sales links.