Cash Back Rebate: 1.0%
Note : You must click to merchant before adding to cart or wishlist
Note : Cash back on gift cards only available here.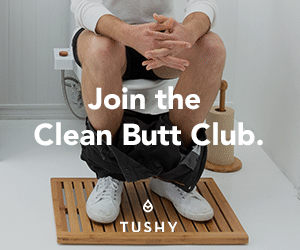 Modern bidet that clips onto your average toilet
TUSHYis a modern bidet that clips onto your average toilet and precisely sprays your nether regions super clean! We aim to flush the antiquated poo-taboo down the toilet in exchange for a bottom cleaning renaissance that's healthier, reduces waste, and helps people around the globe defecate with dignity. By reimagining the way we clean our bums, TUSHY is changing the world one spray at a time, and 2017 has even been dubbed "The year of the bidet." Bustle calls TUSHY "the best favor you can do for your bottom" (and medical experts agree). Metro says it "could change the way we poo forever," and our customers call it their "favorite purchase ever." Do you want to be a part of the movement? The TUSHY customer is the modern millennial consumer who seeks a healthy, sustainable lifestyle and loves trying new gadgets. We offer a competitive commission rate with opportunities to enter higher tiers with strong, consistent performance. Be a clean butt crusader and help spread the word for butts that are cleaner and a world that is greener!
Description