---
| | | |
| --- | --- | --- |
| | | |


Earn up to $400* when you open an HSBC chequing account online

Offer ends November 30, 2023.




A flexible, all-inclusive chequing account that allows you to bank on your terms
No monthly fees* for the first 6 months, and later when you maintain $5,000 minimum balance in combined deposits and investments, including chequing, savings, RRSPs, TFSA's and more 
Or no monthly fees when you hold a personal mortgage with us with an original amount of $150,000 or more
Unlimited day-to-day chequing account transactions*, Free Interac e-Transfer®
Convenient online international money transfer (over 30 countries)*
Free ATM withdrawals at any HSBC or EXCHANGE Network ATMs (over 3,000 locations across Canada)
Access to emergency cash while outside of Canada at any HSBC branch worldwide.


*Terms and conditions apply. Applies for new HSBC customers only. Offer ends November 30, 2023.

®Trade-mark of Interac Inc. Used under license.
® THE EXCHANGE and Accel logos are registered trademarks of Fiserv, Inc., licensed for use in Canada by FICANEX Services Limited Partnership

Issued by HSBC Canada.

****To ensure that you receive your rebate, please save a screenshot of the online application completion page, including the address bar, clearly indicating that the application to the Card or Bank Account has been approved. In the event that you need to report the rebate as missing, the screenshot will help expedite the approval of your request. GreatCanadianRebates reserves the right to approve or decline reports of missing rebates.
★ PLEASE READ TO MAKE SURE YOU GET A CASH BACK REBATE:

• Cash Back Rebate is provided for applications that are started and approved online only.

• Cash Back Rebate is for new/first time HSBC Chequing Account Holders only.
• HSBC Bank Canada is not responsible or liable for any aspect of the cash back rebate offer.
• Cash Back Offer may end at any time at the discretion of Great Canadian Rebates.
• Cash Back Offer available to Great Canadian Rebates members only.
• Applicants must apply online through the link provided by Great Canadian Rebates.
• Do not browse or leave application page before it is completed.
• If the application session expires, you must restart your application, beginning by clicking through the link available through Great Canadian Rebates.

NOTE:
• You must contact Great Canadian Rebates within 2 months of your online application date to report a missing rebate, otherwise the rebate is void by the merchant.

• Please save a screenshot of your application approval.



Rebate Currency Exchange : NONE

SHOP ONLINE..... GET CASH BACK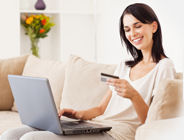 Shop online ...
Get Cash Back!
Get 25% Referral Bonus
Get paid in cash 25% of all cash back rebates all your referrals collect


Great Canadian Rebates works in partnership with over 900 well known merchants. These outlets already offer great deals and savings, you save even more when you shop online as a member here. Once you register, you can save through Cash Back Rebates and even more using our coupons, deals, discounts and sales links.